Have you ever struggled with expressing affirmation to your husband?
Have you ever desired to encourage him, but everything you try to say seems cliché?
I want to encourage YOU, that any and all encouragement coming from a wife's heart purposed to affirm her husband will be treasured, whether cliché or not!
Guys were built with an innate desire to be respected and affirmed.  Those words that sometimes seem hard for you to muster up will feed your husband's soul, draw him closer to you, and esteem him in a special way that only his wife can!
Now… if you are searching for some encouraging words to share with him, but need some help, here are a few tips to inspire your creative juices:)
Get a piece of paper and jot down whatever first comes to your mind when you read the questions below:
Why do you love your husband?

What are you thankful for that only your husband does for you?

How does your relationship with your husband exceed all your other relationships (except the one you have with God, of course)?

What is one thing that you appreciate that your husband has recently done to show his love for you?
You can use these questions to help you get started.  If you use these questions as a guide in the future you will most likely get different answers!  Take your answers and use them to write a note to your husband or use them in a verbal affirmation.  The great thing is that your answers are personal to you and your husband!  I am sure he will receive your encouragement with great joy:)
Here are a few other ways to encourage your husband:
-Pray for him
-Recite a poem or quote and relate its relevancy to your marriage
-Thank him for something he has done
-Tell him how he is a good husband
-Tell him how he is or will be a good father
-Explain how when he does something specific it touches your heart
-Thank him for working to provide
-Compliment his physical appearance or explain a favorite body part of his and why
-Explain why you admire your husband (especially his walk with God)
I hope that these help you get a little more creative when you are trying to find genuine ways to lift up your husband!  I would also love to know more ways to encourage husbands so please share!!!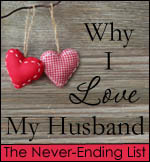 Linking up to Happy Wives' Club first ever link up party!